Ah, yes. Good old Derf Thompson. He is, in fact, a man of several characters, off screen and on. Brian Ross' The Blotter recommends to us yet another treatment of the man's ability to act. This time, Freddy attempts to act principled while simultaneously opening the biggest window he can for Richard Nixon to weasel out of: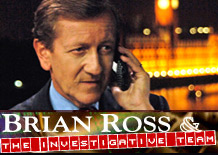 The Blotter: Nixon on Thompson: 'Dumb' but 'Friendly'
Fred Thompson has made much of his role 30 years ago as a young Senate lawyer helping to lead the investigation of the Watergate scandal and President Richard Nixon. . .

"He isn't very smart, is he?" Nixon asks.

"Not extremely so, but –," Buzhardt says, interrupted by the president.

"But he's friendly," Nixon says.

"But he's, he's friendly," Buzhardt echoes.

"Good."

A few days later, White House aides are heard saying Thompson will be even more helpful than his boss, Sen. Baker, and that Thompson agreed to secretly help undercut the credibility of White House whistleblower John Dean.
And say, Brian! Take the goddamned phone away from your ear. You don't look hip, you look like a senile grandpa trying to figure out how to use his remote control. Note the vacancy in his eyes. . .
Technorati Tags: Fred Thompson, 2008, Republicans, Brian Ross